It took me just over one month to knit this: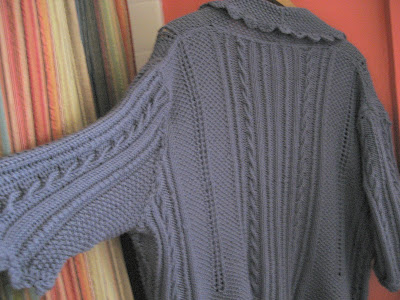 This is Norah Gaughan's Nantucket Jacket. I really enjoyed knitting this. It was actually easy. The fit is pretty good. As usual the shoulders are a bit too wide, but everything else is good. This next photo isn't a good one -- the jacket kept swinging as I tried to photo myself. Someday when there's another photographer around, I'll try to get a better picture.
While I really like the double crochet scalloping along the collar, I don't like it all the way down the front. I think I will redo the edging, leaving the sides with just a single crochet edging. The colors are little grayer in the picture than in real life.